This blog is a little lengthy but if you will bear with me I truly believe that it holds a lot of value for you…
Behold, here comes the dreamer!
That line is taken from a bible story about Joseph and it was his brothers who made the statement. ( out of Jealousy ) My friend Paul was talking about this on our Think And Grow Rich morning mastermind call.
I just got back from the gym where I was doing a cardio for my body and exercising my mind with the call…sometimes multitasking is a good thing J And I am so pumped up. My vibrations are at very high level.
Now I am a dreamer myself and I think that's a good thing for without a dream you might as well be a vegetable as Burt Munro would tell Tommy, the young boy in the movie, The Worlds Fastest Indian. And it was here in this very scene he told him….
By the way, if you haven't seen the movie you owe it to yourself. It's not a new release by any means but definitely one of inspiration. And a true story to boot!
Speaking of inspiration, my friend Paul has been inspiring me for around two years now.
He has quite a story ( many stories actually ) to tell, much too long for this blog but should you decide to tune in to our calls you will hear them for yourself.
You see Paul started this call off about three years ago I believe with only one other person because the book Think & Grow Rich changed his life. Because of the results he got and the dream within him he determined to study the book with other likeminded individuals indefinitely.
The call has grown from the humble beginning to around 500 people live now with who knows how many listening to the replay.
Paul inspires me for a number of reasons. One is the fact that he was persistent and never gave up. Another reason is what he has accomplished in his time. He is debt free at 30 and gets to spend quality time with his family but the best thing is he gets to teach his kids all the valuable lessons he has learned since discovering this book. Imagine what kind of impression that will make on a young mind!!
I am now twice his age and when I was 30 I didn't have a clue. I didn't have a dream. I was wandering aimlessly waiting for the next party or good time. I won't go on and bore you with the ugly details because that's the past and I can't change it.
What I can do is look to the exciting future that awaits me since the book and the call that Paul does changed me. With the dream I have and being free from a J.O.B.
You see I plan on living to at least 100. ( I plan on riding a motorcycle for at least another 25 years ) so that's another 40 years. Now that might seem like a long time but it's not….the first 60 went so quickly.
But the difference is that the next 40 I have a vision, a dream and the burning desire and persistence to carry them out and help as many people as I can who want to join me.
Getting back to the movie one more time, Burt Munro was around my age when he broke world speed records that would not be touched for the next two to three decades and with a bad heart on top of that. So imagine what I can do now with a dream, a burning desire, and the persistence to carry it out. And YOU my friend can too!!
Today I offer you a gift if you have the insight to take it…..It is a invitation to join me on the call. Now you might not think that I'm offering much but to me I am offering you pure gold.
Why??? Because I have been on the call long enough to see people's lives transform in as little as 3 to 4 months, sometimes faster than that. Did mine happen that quick? No, it took me near 2 years, it's different for everyone but if you will come with an open mind, truly desiring change, it will happen. 
So here is my gift to you.
I challenge you to get on the call for at least 90 days. Don't just get on for a day and make a quick judgment even if you think that this is just hokie stuff and "certainly not for me".
I DARE you to get on the call and see what it could do for you.
The call is Monday-Friday from 9:00 to 10:00 EST
712-432-0900 - Access Code: 565762#

And if you miss it live you can hear the replay for the next 24 hours at
712-432-0990 Same access code
Let me ask you a question, do have someone who inspires you? If not come listen to my friend Paul who has gained wisdom beyond his years here on this earth.
And if you take my advice and this gift I offer you and you get value from the call I would love it if you would leave me a comment on my FB fan page. That's my reward :)
To your ongoing success and abundance my friend!
And Happy St. Patricks Day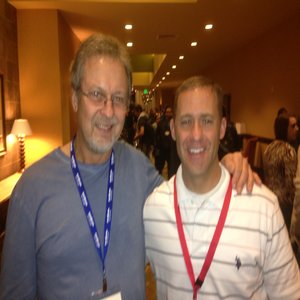 Rick and Paul
251-458-4584
http://www.facebook.com/rickburnett.jedibiker